New from Timber Press and The Heartland Peony Society
<![if !supportEmptyParas]><![endif]>
The Genus Paeonia
Josef J. Halda with James W. Waddick
Botanical illustrations by Jarmila Haldov
á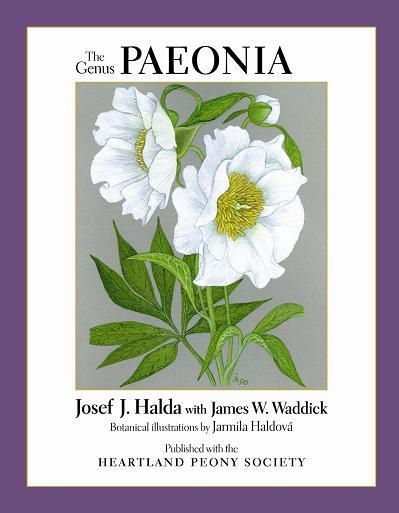 <![if !supportEmptyParas]><![endif]>
Peonies, of the genus Paeonia, are among the most dramatic and beautiful flowers for gardens.Although species of Paeonia are found in the wild throughout the northern Hemisphere, they are mainly associated
<![if !vml]><![endif]>with Asia and Asian gardens.Josef Halda is one of the few botanists who have traveled to see every known peony species and subspecies in the wild, often in extremely remote areas.He documents twenty-five species in these pages, including forty subspecies and varieties.
<![if !supportEmptyParas]><![endif]>
Although this work carries the mantle of authority from Halda's work in taxonomy, it is also a helpful resource for everyday gardeners who wish to try even the rarest peonies in their gardens. James Waddick has teamed up with Josef Halda to provide valuable information on growing peony species, with a full account of cultivation requirements, hardiness, Propagation, and diseases and pest.The text is graced with the stunning botanical paintings of Jarmila Haldová, Josef Halda's wife and one of Europe's leading book illustrators.Haldová has also contributed dozens of useful line drawings of peony characteristics to aid in identification.Sponsored by the Heartland Peony Society, which helped fund its publication, The Genus Paeonia is a rare work of beauty, science, and practical value.
<![if !supportEmptyParas]><![endif]>
Josef J. Halda was a botanist at the botanical Institute of the Czechoslovak Academy of Sciences prior to starting his renowned seed-collecting business.His wife, Jarmila Haldová, an accomplished illustrator of children's books makes his plants accessible with her distinctively beautiful, botanically accurate drawings.
<![if !supportEmptyParas]><![endif]>
James W. Waddick lives and gardens in Kansas City, Missouri.He received his Ph.D. from the University of Kansas.He was an early member of the Species Peony International Network and a founder of the Heartland Peony Society.He is active in several plant societies, including the American Iris Society.He is the co-author of Iris of China.
<![if !supportEmptyParas]><![endif]>
228 pp, approx, 36 watercolors, 43 line drawings, 8½ X 11", hardcover
ISBN 0-88192-612-4
Price US $34.95 Can $49.95 plus shipping and handling
Publication date: March 2004
<![if !supportEmptyParas]><![endif]>
<![if !supportEmptyParas]><![endif]>
The book may be ordered directly from The Timber Press website or contact
Timber Press, Inc. 133 SW Second Avenue.Suite 450, Portland, OR 97204-3527.
Telephone (800) 327-5680, (503) 227-2878, Fax (503) 227-3070
http://www.timberpress.com/ and email at orders@timberpress.com
<![if !supportEmptyParas]> <![endif]>