In some varieties of the Double type the guard petals are shorter than the petaloids, thereby forming the globular bloom. In others the guard petals are longer and prminent, thereby forming the so-called "Bomb Type." But this form is not constant and often in the same bloom which starts with prominent guard petals, the petaloids keep on developing until they nearly obliterate the guards and eventually make a globular bloom.1

The stamen of the "Bomb Type" are transformed to substantial petals. No pollen is present. These may or may not have the flower-in-flower anatomy, but petals should always develop such as to form a smoothly sculptured, ball-shaped center. Side-buds and reduced flowers of immature plants or plants in poor growing conditions sometimes appear as anemone form. Raspberry Sundae is a good example of a "Bomb Type" peony.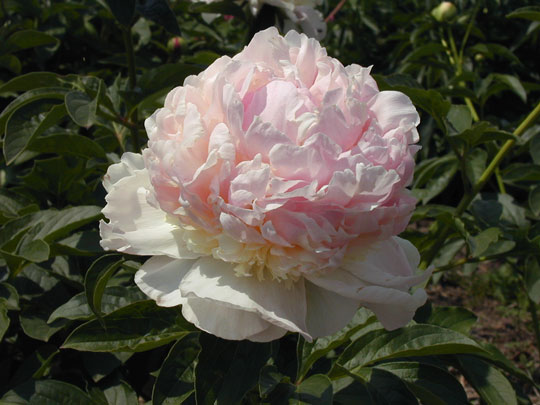 1Peonies, (Manual of the American Peony Society), APS, 1928, Page 22, 73-74.